Swansea-based company is developing a flexible ocean energy extraction technology that can harness wave energy, wind energy and combined wind and wave energy at grid scale.
All the machines share a common floating platform technology said to have cost and deployment advantages over other floating platform approaches.
The company behind the above-mentioned developments is Marine Power Systems (MPS).
MPS initially developed a wave energy converter (WEC) prototype, followed by wave-wind hybrid and floating wind devices.
The WEC device called WaveSub is the invention of Swansea University graduates Dr Gareth Stockman and Dr Graham Foster, who founded Marine Power Systems in 2008.
WaveSub quarter scale has already completed prototype stability tests, computational simulation and cost of energy modeling.
Taking place in Cornwall at the marine test site FaBTest, MPS said in September last year that the test results have proven the functionality of the device across a range of sea states and its ability to generate electricity from ocean waves.
The results, gained over a 12-months campaign, also paved the way for MPS to progress with the design, manufacture and testing of a full-scale version of the WaveSub.
GOING FULL-SCALE
In September last year, MPS secured close to £13 million EU funding which should allow the company to develop a full-scale wave energy converter prototype, paving the way for the device to be launched on the market.
WaveSub has an orbital energy capture mechanism harnessing the subsurface orbital energy flow of the waves.
Each full-scale energy capture float can capture over 1.5 megawatts of power, and each WaveSub device has multiple floats, leading to multi-megawatt power output per machine.
The first commercial generation units would start at 4.5MW, increasing to circa 10MW in future generations.
To help boost this and other projects, MPS has also secured £1.5 million through a crowdfunding campaign with Seedrs.
This campaign has now been extended, aiming at £ 2 million.
POWER TAKE-OFF (PTO) SYSTEM
Going forward with the full-scale WaveSub, MPS recently launched a tender focused on the preliminary and detailed design of the Power Take-Off (PTO).
The company is looking for a contractor to design the PTO system, including specification of the hydraulic, electrical and control aspects.
The PTO system for the full-scale prototype WaveSub will be rated at 1.5MW, ultimately exporting grid compliant electricity.
The contractor will also provide support needed to develop a representative simulation model of the PTO system to assess the performance and acceptability of the solution.
There are also tasks later in the project which transfer the learning from the detailed design of the full-scale prototype PTO system to the design of the first production intent machine.
Tasks will be split between preliminary design, detailed design and some initial manufacturing related tasks for the PTO system.
At the end of each phase there will be review and sign off activities required, prior to progressing to the next phase of the project.
Manufacturing, assembly, commissioning and sea trial testing are outside the scope of this work package and will be covered in subsequent, separate tenders.
Interested parties can apply until 20 August 2020.
DUALSUB AND WINDSUB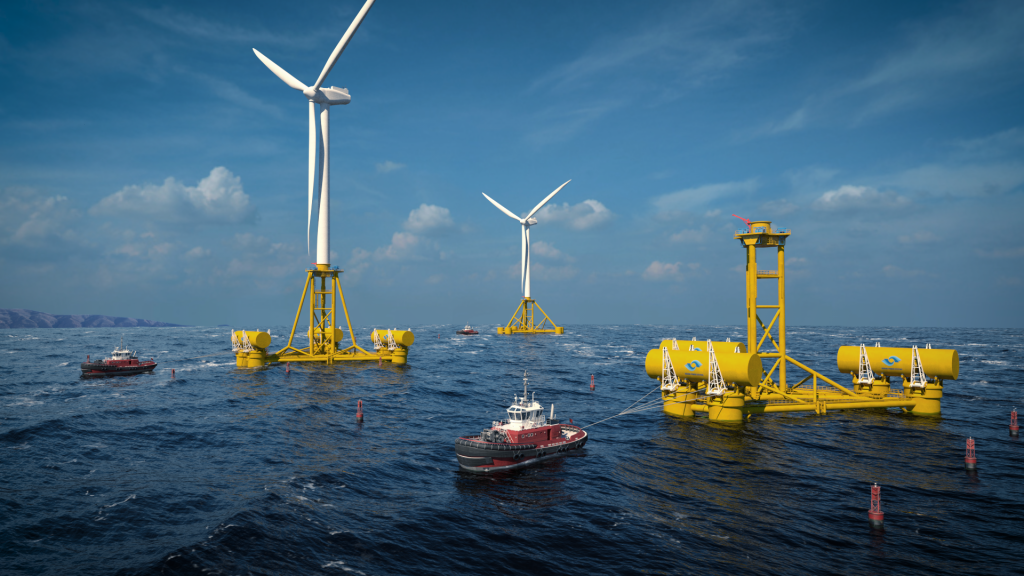 WaveSub prompted MPS to explore its suitability for use as a platform for wind turbines.
Initial tests revealed that WaveSub offered a stable platform on which a turbine could be installed, enabling the simultaneous capture of wave and wind energy from the ocean – essentially the WaveSub can be adapted to be a floating wind turbine and wave energy device in one, the company explained.
Following further R&D, MPS has developed two new devices; DualSub that captures both wave and wind energy, and WindSub that captures wind energy only.
These devices have completed prototype stability tests, detailed computational simulation and cost of energy modelling.
Original Article in offshore-energy.biz.