Marine Power Systems (MPS) has selected Quoceant as a contractor for the delivery of the first stage of WaveSub energy device's power take-off design.
Under the stage one design workload, the Scottish engineering consultancy Quoceant will work to deliver an overall power take-off (PTO) system design with all major risks addressed ahead of detailed manufacturing designs that will be delivered in stage two of the process.
Originally, the Quoceant team developed and successfully tested the PTO for the Pelamis wave energy device, the principles of which were further refined on a recently concluded Wave Energy Scotland project.
Graham Foster, chief technology officer at MPS, said: "Quoceant are a highly talented team with world leading expertise in wave energy power take-off systems and we are delighted to be working with them at MPS. By adopting proven principles and working with such an experienced team MPS is a significant step closer to a successfully proving our novel wave energy converter at large scale".
Welsh-based MPS is currently developing a project that will demonstrate the WaveSub wave energy device, and DualSub – a technology that can simultaneously capture both wave and wind energy in a single machine – at large scale.
The device is planned to be tested at sea in 2023, according to MPS.
The company noted that the contracts for stage two design and manufacture will be awarded in 2021.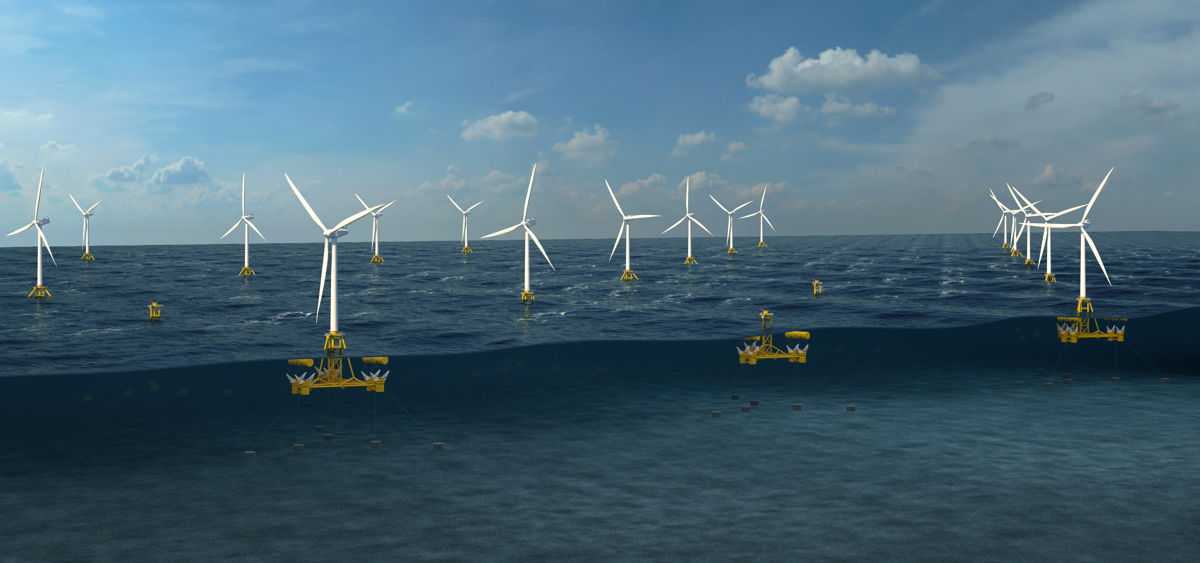 DualSub wave and wind energy farm (Courtesy of Marine Power Systems)
As reported earlier, MPS secured £12.8 million of EU funds to support the manufacture and testing of a full-scale WaveSub device in 2019, following a successful testing campaign for a quarter-scale WaveSub which started a year earlier.
The testing took place in Cornwall at the marine test site FaBTest over the course of twelve months. The trial results proved the functionality of the scaled device across a range of sea states and – crucially – its ability to generate zero-carbon electricity from ocean waves.
In 2018, MPS expanded its technology offering into the floating offshore wind sector with two devices designed for energy generation in deep water locations, resulting in the development of a DualSub that captures both wave and wind energy, and WindSub that captures wind energy only.
The devices completed prototype stability tests, detailed computational simulation and cost of energy modelling, prompting the MPS to accelerate the development of both concepts to a scaled-up prototypes to bring them to the point of market readiness.
To remind, MPS has recently run a lucrative crowdfunding campaign reaching a £ 1.5 million crowdfunding target in just two weeks after the launch, and then proceeding into overfunding and amassing over £ 2 million.
Original Article by Offshore Energy.